---
---
Material above this line is advertising not related to and not endorsed by this site.
---
---
Who Owns Kenya?
e-Mail to my Kenyan Friends
---
From: Marshall Burns
Sent: Thursday, March 01, 2007 19:50
To: 'Kenyan friends'
Subject: Proclamation in the parliament building lobby
Dear Friends,
You know I'm working on compiling my notes and preparing something to put on the Web about what I'm learning in my visit to your country. I'm making progress on that and hope to have something ready soon. I appreciate all the input you've given me on your circumstances and how they have come about.
I've just come up with something that is just too important to wait until this project is finished to share with you. I would love to know what any of you think about this.
When I had the opportunity to meet with a member of your parliament a few weeks ago, I took a picture of a glass case near the entrance to the parliament buildings. Today, I've analyzed that photograph and transcribed its contents.
The glass case contains a proclamation from the queen of England which creates the authority for the parliament to govern your country. In it, the queen of England refers to the parliament as "Our Parliament of Kenya," she refers to you as "Our People of Kenya" and as "Our Loyal Subjects," and she refers to what happened in 1963 not as independence, but as "the attainment by Kenya of fully responsible status within the Commonwealth." Then, after granting her husband authority to open the parliament on her behalf, she wishes you "continued prosperity and happiness."
One could forgive the queen of England for having the arrogance to think that she still owns you, but my question is why does the government of Kenya still allow that document to be displayed in the lobby of the parliament buildings without a disclaimer? Who really is in charge of this country?
You will find attached the photograph of the proclamation and an enlargement of the text. Below are my transcription of the text and a translation I've made from the royal mumbo-jumbo into everyday English. Maybe someone would like to prepare a translation into Swahili.
Unlike Queen Liz, who wishes for you to continue as you were, I wish for you to one day achieve the real prosperity and happiness that you so richly deserve.
Hugs,
Roc
(Marshall Burns)
www.TheRoc.net
======================================================================
THE PROCLAMATION IN THE PARLIAMENT BUILDING LOBBY:
Elizabeth the Second by the Grace of God of the United Kingdom of Great Britain and Northern Ireland and of Our other Realms and Territories Queen Head of the Commonwealth Defender of the Faith
To Our right trusty and well beloved Counsellor Malcolm John MacDonald Governor-General and Commander-in-Chief of Kenya and Our trusty and well beloved the Honorable Timothy Muinga Chitasi Thomas Chokwe Speaker of the Senate and the Honorable Humphrey Slade Speaker of the House of Representatives of the National Assembly of Our Parliament of Kenya and To Our trusty and well beloved the Members of the said Senate and House of Representatives and Our People of Kenya Greetings:
Whereas by the Kenya Independence Act 1963 provision is made for the attainment by Kenya of fully responsible status within the Commonwealth And Whereas in pursuance of the provisions of the Constitution set out in the Kenya Independence Order in Council 1963 Our Parliament of Kenya has been summoned to meet for certain arduous and urgent affairs concerning the Government thereof And Whereas We are desirous of marking the importance of the opening of the first meeting of the said Parliament and of showing Our special interest in the welfare of Our Loyal Subjects in Kenya and for as much as for certain causes We cannot conveniently be present thereat in Our Royal Person Now Know Ye that
We trusting in the discretion fidelity and care of Our most dearly beloved Husband and most faithful Counsellor Philip Duke of Edinburgh Knight of Our Most Noble Order of the Garter Knight of Our Most Ancient and Most Noble Order of the Thistle Grand Master and First or Principal Knight Grand Cross of Our Most Excellent Order of the British Empire Admiral of Our First Field Marshal in Our Army Marshal of Our Royal Air Force
DO give and grant by the tenor of these Presents unto him full power in Our name to hold Our Parliament of Kenya and to open and declare and cause to be opened and declared the causes of holding the same and to do everything which for Us and by Us shall be therein to be done Willing that he shall hereby convey to Our said Parliament and People Our Royal message of goodwill and Our assurance of Our earnest prayer for the blessings of Almighty God on the new Constitution of Kenya and for the continued prosperity and happiness of all Our Loyal Subjects in Kenya Commanding also by the tenor of these Presents as well all and every the said Governor-General and Commander-in-Chief the said Speaker and Members of Our said Senate and House of Representatives as all others whom it concerns to meet in Our said Parliament that to the same Prince Philip they diligently __________ the premises in the form aforesaid
AND We do further direct and enjoin that these Our Letters shall be read and proclaimed at such place ___________ Kenya as Our said Governor-General and Commander-in-Chief shall think fit
In Witness whereof We have caused these Our Letters ______________ Witness Ourself at Westminster the sixth Day of December in the twelfth year of Our Reign.
Translation:
From: Elizabeth II, Queen of the British Commonwealth and Defender of Christianity
To: The rulers and people of Kenya
Since Kenya is now a member of my Commonwealth (instead of my colony) and since I have summoned my parliament there to govern it and since I want to express interest in the opening of my parliament and in the wellbeing of those among its people who are loyal to me, but since I can't be there myself, I authorize my husband, Prince Philip, to open my parliament on my behalf. I also ask him to give you my regards and assure you that I pray you will continue to be as prosperous and happy now as you were under my colonial rule.
Sincerely,
Your Queen
December 6, 1963
Westminster, England
---
Attachments: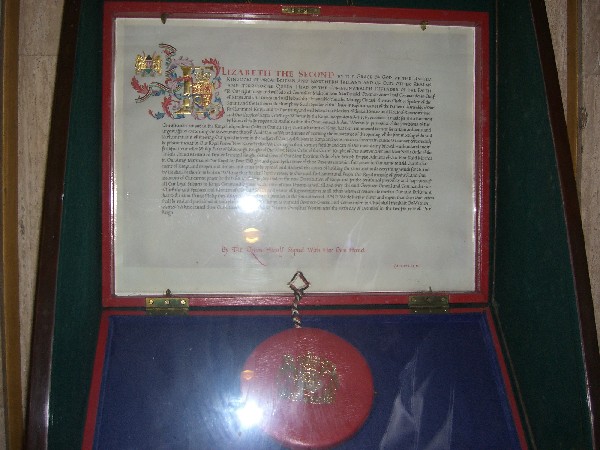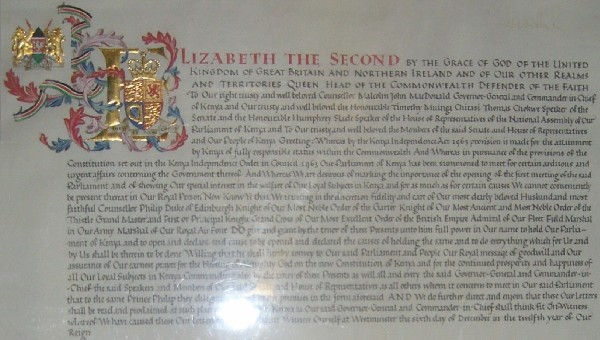 ---
About this Site
---
---
Material below this line is advertising not related to and not endorsed by this site.
---
---